It's the end of January and Bridal Show season is starting to wrap up. You've got dozens to hundreds of brochures and wedding business marketing materials. You have found a few vendors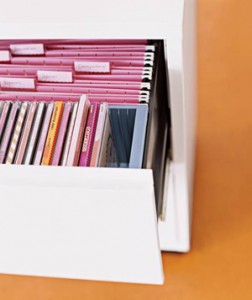 you've met that you like; you got ideas from some of the booths and lots of e-mails in your inbox from vendors. But now what? How do you know what's the next step with your wedding? Many brides and grooms I've spoken with are now even more confused and overwhelmed after the show then they thought they'd be. So what's the next step?
Purge – Go through all the brochures, flyers, information, etc and get rid of the one's you don't need. You can dispose of any promotions that are over, anything that's beyond your price range, anything you just don't like, or anything that is not in near or in your designated area.
Organize – Get some file folders, or binder, or accordion folder, etc. Label each section with categories (Photography, Catering, Venues, etc) and separate the vendor information into these sections.
Research – Look up online the vendors that you have received information on in each category. If you decide you're no longer interested in a vendor, dispose of their pamphlets and information materials. If you are still interested, contact them and request a quote.
Organize Quotes & Other Information – Put all information regarding quotes into your organization folder, binder, etc to help keep it organized. Any vendor that you find is out of your budget, dispose of their information. Set up meetings with the vendors that are left to see their work and get further information.
Get Help – Getting help from a Wedding Planner, such as myself, can be a big timesaver. We have connections in the industry and can help decide which vendor will be the best fit for you and even attend vendor meetings.
When looking for the right A-team to work with you on your wedding there are several things brides and grooms overlook and wouldn't know otherwise unless they've planned several weddings before and had an extensive list of reliable, professional vendor contacts and have experienced their services first hand. You need to be working with the right vendors. You need vendors that match your personality, vision, style, quality of service, professionalism and budget. I see many couples making the mistake of going with the first vendor they see that's "cheap". As much as I wish you could get an amazing wedding for 300 people for $5,000 it simply won't happen. I don't mean to be the bearer of bad news but you will be sadly disappointed with the results and I don't want that to happen to you. As a professional wedding planner I know what to look for when it comes to finding reliable wedding vendors for your wedding. I know your preferences, your wishes, your vision, your personalities, your goals, your dreams… your family… everything! I know everything about you and your wedding. I also know everything about the connections I've made. Their strengths, their weaknesses, their personalities, their style, the level of service, professionalism and what sort of product or service they put out there. As a wedding planner my job is to play matchmaker. My job is to have all of the answers or get all of the answers you need to make the best decision for your wedding and what your end result will be. I want you to have the best experience for your wedding for your allotted budget no matter if that's $5,000 or $500,000. You deserve to have your dream day! All I'm asking is for you to be realistic and let me help you.
Do I believe every bride should work one-on-one with a wedding planner? No. Why, because sometimes you're money needs to be spent elsewhere. If you have the time to plan your own wedding then put that money elsewhere. Can you still work with a wedding planner to guide you through the wedding planning process? Absolutely! Couples are able to work with me at a variety of price points, to utilize my expertise without the thousands of dollars it costs for me to work with you solely on your wedding. Now if you're a busy professional and you just cannot do this on your own. That you want to set a standard with your wedding, to go above and beyond you and your guest's expectations then you a professional wedding planner could be very beneficial to make these dreams come true. In this case, this is a good investment of your money as a wedding designer will help create a unique experience while allowing you to focus on your career, family, etc and be stress free.