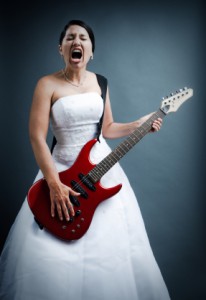 Every bride wants to look stunning on her wedding day… if you didn't you wouldn't spend hundreds of dollars on the gown, designer shoes and your beauty regime. You want your guests to tell you how stunning you look and how much fun they are having at your wedding. However your guests take their cue from the hosts… which is ultimately the bride + groom and their families. If you're running around not enjoying yourselves then your guests won't either. I guarantee you that all eyes will be on you and your families the entire time, so it's important to have a good time while you're there.
Here are a few of my tips to ensure that you can be the stunning beautiful bride but also ensure your guests know your wedding is amazing!
Steph's Bridal Advice:
#1. Accept Compliments- When someone says that you look beautiful… it's simple… say thank you! When they tell you that they are having a wonderful time, don't start complaining that the venue didn't serve the right food. Unless you point it out… your guests have no clue what was supposed to be right or wrong.
______________
#2. Smile, Laugh, Dance + Have A Good Time- Your wedding will be over before you know it. At the end of the night you won't believe how fast it goes by. So make sure that you enjoy every single moment. Smile, laugh, eat the yummy food, smell the roses, hug your guests, dance like mad, kiss your new husband and just soak it all up!

______________
#3. Glow Like The Star You Are- On your wedding day you cannot be the star in the spotlight and the director behind-the-scenes. Even though you have this wedding perfectly planned, you need someone there to oversee the entire day from the time you wake up until the time your last guestleaves. You want someone there to help communicate your wishes to your vendors and venues. To help with the set up to ensure that everything is how you wanted it to be. To ensure that the services you've paid for is up to your standards and as per your contacts. And that if any problems or issues arise, someone with the proper experience and expertise will be able to handle the problem with grace and quickly without panic.
______________
#4. Walk with poise, grace + beauty- Practise walking around in your designer shoes several weeks before your wedding day. Concentrate on feeling beautiful, graceful and confident. Here's a DIVA tip I heard from Beyonce… to wear your shoes with socks while you begin to break them in to prevent blisters.
_____________________
#5. Stress-less the last few weeks prior to your wedding- What helps you unwind? I love singing + music… it empowers me. So sing in the shower, sing in the car, rock to work with your favourite tune. Perhaps you love the spa- get a package and spend a day at the spa have a facial, a massage, get your nails done. Journal- starting to go a little crazy just before the big day. That's okay, this is very normal. Grab a journal and start writing out how you feel… vent to your journal and get it all out. You'll feel so much better.
_____________________
Consider hiring a wedding day coordinator + team to help you the last few weeks prior to your wedding. This is the most crucial and stressful time during your planning, and a professional wedding day coordinator is your insurance policy that the money you've spent on your wedding day can be thoroughly enjoyed by your guests as well as your friends, family and yourself.