Your Maid of Honour should be that special friend or family member who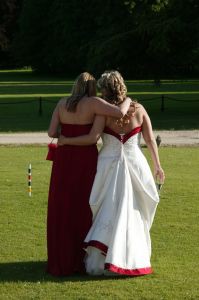 you feel you are closest with. The Maid of Honour should be responsible, organized, and someone you can count on to talk you through any stress you may come across. The Maid of Honour has many duties. Although, these duties vary from wedding to wedding, here are a few tasks she may be required to do:
Help you pick your wedding dress
Help with invitations, seating cards, and wedding favours
Help plan the Stag & Doe
Plan your wedding shower and bachelorette party
Deliver a toast at the wedding
Help you make sure that you are looking your best at the wedding for photographs
Carry the grooms ring for the ceremony
Sign the marriage certificate
Sometimes it is impossible to decide between two people. So don't pick between them, ask them both to be your Maid of Honour. Yes, they will have to divide the duties, but it will lighten the work load for both of them and everyone will be happy with the end result.
Also, keep in mind how far the Maid of Honour lives from you. If she lives far away, it may be difficult for her to perform her duties. She'll have to travel more and that can become financially draining and exhausting.
Your Maid of Honour is an important part of your wedding day. Make sure you choose wisely and don't be pressured into picking anyone you don't feel comfortable having as Maid of Honour. This is your special day; choose someone who is special in your life.