Picking out your dream wedding dress is a fun and exciting experience. But there are many options and many different price points that often make buying your wedding gown overwhelming. Here are a few things to consider when looking to buy your dream wedding dress.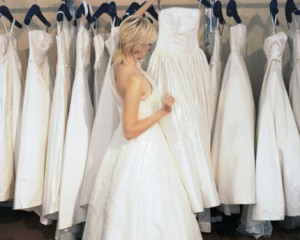 Budget – Set a budget for your dress and stick to it. Going over your dress budget can quickly push you over your total budget amount, or take away finances from other important aspects of your wedding. Generally the rule of thumb is that attire should be limited to about 5-12% of your total wedding budget. Keep in mind this percentage includes the gown, a veil, shoes, accessories, undergarments and hosiery, jewellery, as well as a tux for your groom and his shoes, cuff links, tie, etc.
Research – Research gowns and gain some overall knowledge of gowns before even going out to a bridal shop. Look online, read bridal magazines, and look at a few catalogues.
Decide a Few Dress Preferences – What type of silhouette do you want? Ball gown, A-line, Sheath, or Empire Waist? What colour do you want? Do you want pure white or an off-white shade or something even more non-traditional? Think about length. Do you want a long dress or do you want something shorter and less traditional? Do you want something really formal or less formal?
Bring a Few People with You to the Bridal Shop – Bring your mother, friends, sisters, or anyone's who will give you an honest opinion on the dress and tell you if they think it looks good on your or not. Be careful not to bring too many people. Having a lot of people can end up being more stressful than helpful.
Don't Buy Right Away (unless you have to) – Try not to purchase your dress on your first visit to the bridal shop, at least sleep on it before you buy. You don't want to be stuck with a dress you aren't fully sure of.
Enjoy the Experience – Buying your wedding gown should be a fun experience, don't stress, enjoy the time with the girls.